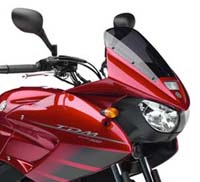 Welcome: this is the biggest Italian e-group dedicated to Yamaha TDM! In these pages you will find lots of info on the bike, on the meetings organized or sponsored by TDMItalia, on the best accessories for the bike; you can check here for ideas for one-day trips or longer tours, thanks to our trip reports, or you can find directions for the restaurants and hotels "tested" by our registered members, or, why not?, browse through the postcards sent from all over the world.
If you too own a TDM, come in and join this group, and you'll find yourself sharing your experience with hundreds of fans, asking for advise, sending your trip reports and your pics to have them published on the site! Or, if you register in our restricted area you can insert a short presentation of yourself, with a picture riding your bike, and you'll be published on this site!!
Finally, you can subscribe our mailing list and our forum to chat with other people who share your same passion for our bike.
So, enjoy the ride and... we hope you'll join us and contribute to enlarge this community
TDMitalia Staff
For whatever explanation, please get in touch with us at info@tdmitalia.it
For any recommendations concerning this site, please advise international@tdmitalia.it

| | | |
| --- | --- | --- |
| You are the visitor n. | | since 07 Feb 03 |